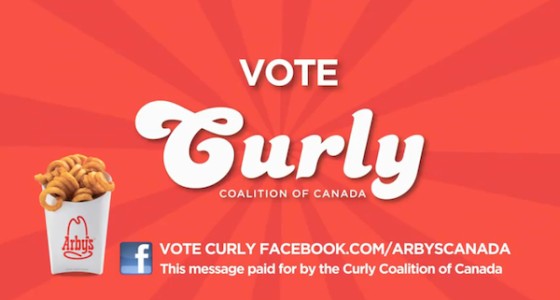 Arby's has a civil war going on and I have my first credit as a Track Director with RMW Music.
Conceived by Toronto agency Blammo Worldwide for their client Arby's Canada, the online campaign gets political in asking people to vote for their favourite Arby's fry.
There are eight spots in all, cleverly conceived by the creative team Grant Cleland, Vinay Parmar and Marko Pandza.
You can see all eight spots on the Arby's Canada YouTube channel, and read more information about campaign in Strategy.
I'm a Curly man myself.
"Deadly" :30

"Nothing" :30

"Enivronment" :30

Advertiser: Arby's Canada
Agency: Blammo Worldwide
CCO/writer: Andrew Simon
Senior AD/designer: Grant Cleland
Writer: Vinay Parmar/Marko Pandza
Music and production: RMW Music Toronto
Track Director/Producer: Ted Rosnick
Track Director: Andrew Bradley
Sound Designer: Vlad Nikolic
Sound Engineer: Dustin Anstey
Sound Studio: RMW Music Toronto
Voice Casting: RMW Voice Casting
Completed September 2011