Some thoughts on finding a billboard I wrote ten years ago, still up and forgotten in downtown Toronto.
Most ads I've worked on have a short life. Both in the real world and in my memory. You work on them a couple of weeks and then you see them in real life and then they're gone never to be seen again. Then we're on to the next one. That's why I went looking for this one. Something I wrote ten years ago that I had a hunch might still be up on the same wall it was posted on in downtown Toronto.
Painted on the south-facing side of the Duke of Argyle pub, this mural for Alexander Keith's India Pale Ale used to face King street at John overlooking a big parking lot. A few years ago the empty 'lot' became the site of the Toronto International Film Festival headquarters (and condos). The Duke closed (it became the construction office) and the tower went up right in front of the mural.
I've never had a copy of it for my portfolio, so recently I thought I'd walk through some dangerous back alleys to see if it was still there. (Okay, it's not that dangerous although I was offered a BJ back there.) Was it there? Yup. Facing the loading dock of the TIFF tower.
It was kind of comforting still seeing it. It was like coming across an old diary and re-reading it years later. I remember that time in my life very well. The area was different then (remember when the Club District wasn't just in name only?). And it was a different life for me – Downtown Partners, the agency I wrote it at doesn't even exist anymore. And it was just before my career-changing time at Zig that made me love advertising all over again.
I have a feeling its days are numbered so I'm glad I got to take a last look. It's not the best headline I ever wrote, but I guess in a strange way I identify with the mural itself. Ten years on and we're both still in the ad game. Albeit a bit more in the back alleys but happy.
BTW, I do miss the old Keith's tagline: Those who like it, like it a lot. It was easy to write to. And it was true.
Alexander Keith's OOH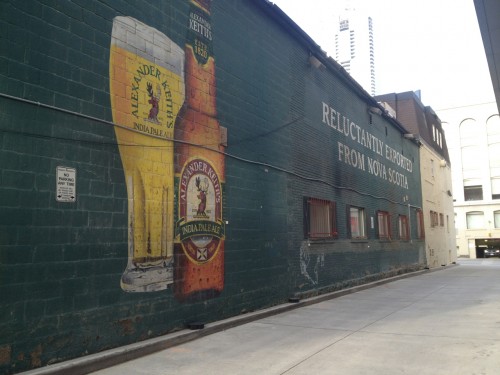 AGENCY: Downtown Partners
Copywriter: Andrew Bradley
Art Director: Craig Markou
CD: Dan Pawych
I have the dubious and anonymous distinction of being the final copywriter on the Alexander Keith's campaign featuring the crazed, Scottish, Keith's-loving patron played by actor Robert Smith.
The background? During the summer of 2003, while on my way to a travel agent to get out of town for awhile, I ran into Dan Pawych the CD of Downtown Partners. He asked me to give him "a week of freelance". Well, that turned into about six months. During my time there, we produced these spots for the character — not knowing it was his swan song. Before the infamous event involving Robert Smith — which I won't get into but you can Google — resulted in the campaign being pulled, at least one of them, 'Scurvy' I think, went to air.
"Neck Pain" :30

"Scurvy" :30

"Squabble" :30

COPYWRITER: Me ART DIRECTOR: Craig Markou CD: Dan Pawych
Credit to Pete Breton and Dave Douglass for creating the original campaign.
Produced 2004